What's In My Bag
updated 5/20/2019
In 2016 I got rid of everything I owned that didn't fit in a laptop backpack, and I've been trimming down my possessions ever since. The core idea is to only own what I need, which allows me to travel spontaneously, live cheaply, and simplify my life. My current onebag is the smallest, lightest, and most matte black it's ever been.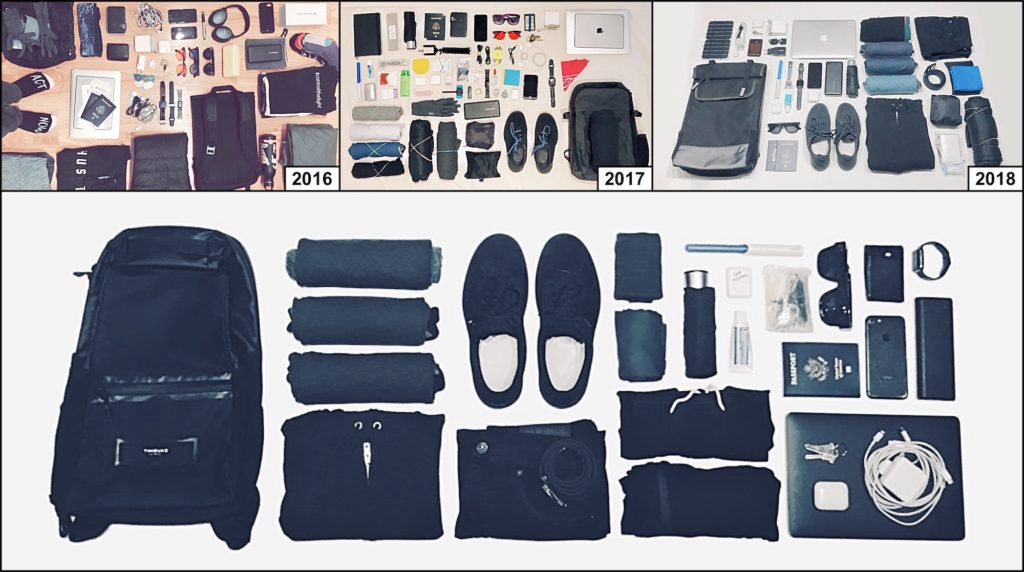 My bag currently weighs 7.3lbs (3.3kg) and contains around fifty things. Weight is important if I'm carrying the bag around all day, so I try to keep the bag lightweight enough to be able to comfortably walk, hike, and even run long distances while wearing it. Though the weight has dropped significantly over the past year the number of things has stayed the same, which leads me to believe that fifty is the optimal number of possessions for me.
I included some affiliate links on this page, so if you buy something from here, thanks!
---
Packing
Timbuk2 Shadow Backpack. A lightweight 16L backpack that checks every box for me. I used to think that 16L was too small, but with this bag I can fit everything I own and still have room for groceries. It has a matte black waterproof shell, my favorite type of TPU zippers, and it's comfortable and light enough for anything. Timbuk2 reached out and sent me this bag after reading my last post in which I mentioned my previous bag didn't meet my needs, and I don't think I'll be replacing this one anytime soon.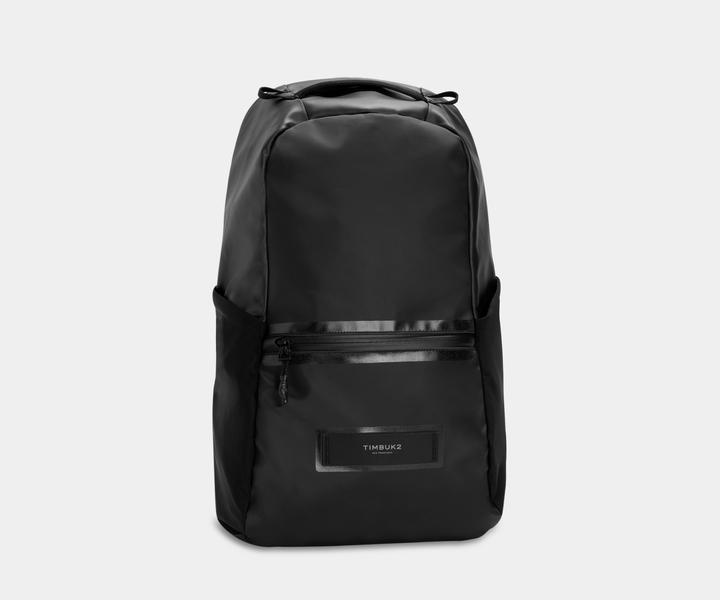 Dopp kit/pouch. My dopp kit fluctuates every few weeks as I buy new pouches and then toss them out as I stop liking them. When I don't have a dopp kit in my bag I just use a plastic ziplock bag. I'm not sure if I'll ever find one that I like enough to keep.
Tech
My current tech kit has become so minimalist it's hard to call it a kit anymore. When you exclude the tech I wear or carry in my pockets, really all I carry around is a laptop and powerbank, which makes me think that at some point in the future I might be able to carry everything in my pockets. My current setup is most likely my perfect setup. The only things I'm considered adding are maybe an iPad again, and possibly looking into the Mavic Air.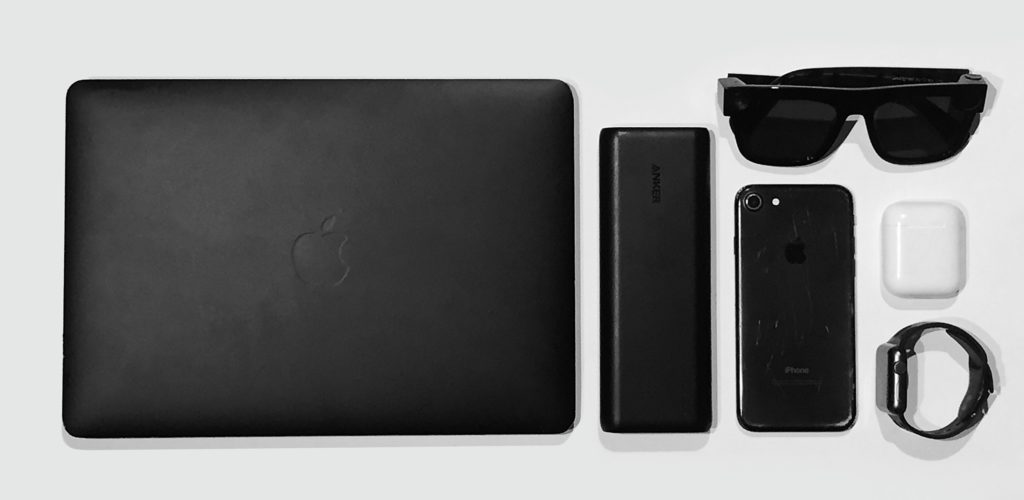 All my tech combined weighs about 3.5lbs (1.5kg), which is about half of what it weighed a year ago and a third of what it weighed two years ago. Which means, for the first time, my tech weighs less than my clothes.
12″ Macbook. I'm a huge fan of this laptop since it's half the weight of my old Macbook Pro and just as powerful. It also has a massive battery that lasts several days and can be charged from a portable battery so I can travel for almost a week without having to connect anything to a wall outlet. I customized it by permanently attached a lightweight laptop stand to the bottom, which allows me to prop it up for better viewing angles (I grabbed a Chinese knockoff stand to get one with no branding but if possible I recommend buying them directly from Moft to support the original inventors). I also added a matte black vinyl skin ($0.99 at a local crafts store).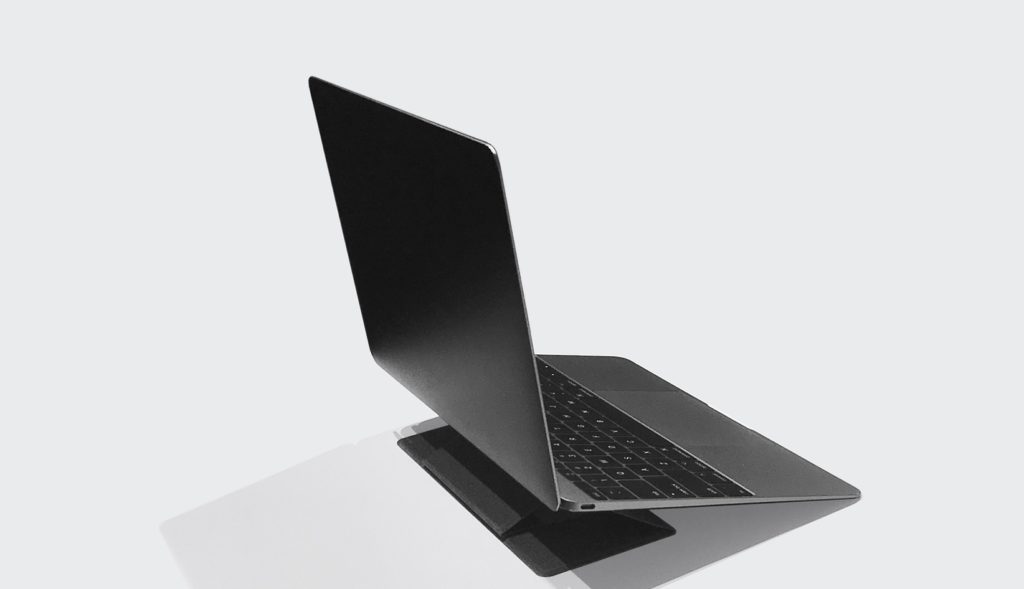 iPhone 7. In my opinion the best phone ever made. I've been holding off on switching to a current generation glass iPhone since I'm rough with my tech and I know I'll break them immediately. I still break this one often, but the iPhone 7 is fully-modular so it's not a huge issue. Whenever the screen, battery, button, or any sensor breaks, I can get a replacement on Amazon delivered same day for less than $20. You can't do that with any of the newer phones. I have a bunch of phone components queued in my Amazon 'Saved For Later' cart to make replacements as quick and painless as possible.
Apple Watch. My Apple Watch has basically been reduced to a passive heart rate monitor. If I were to chart my watch interactions from the day I bought it in April 2015 until today, it would be a negative slope starting at maybe 100 interactions a day and ending at one or two. I'm starting to question its usefulness, especially now that there's no gamification left after maxing out the activity awards, but now that I have a permanent wrist tan in the shape of an Apple Watch including the dial I guess I'm committed to wearing it for the rest of my life. I use a 3rd-party sports band instead of the OEM one since it's lighter (15g instead of 25g) and more comfortable.
Anker 20100 PowerCore Battery. This battery is awesome, not just because it's minimalist, matte black, and small enough to fit in my pocket, but also because it's the perfect compromise between capacity and weight. I often compare powerbanks by calculating their power-to-weight ratios, and at 1600mAH/oz this one is almost as efficient as the 26,800mAH batteries I used to carry. The USB-C port charges my laptop, phone, and airpods while the USB-A port charges my Apple Watch and Snapchat Spectacles. It carries about one full Macbook charge, and it's also smart enough to let me know when it's done charging, detect when I connect a device, and charge my laptop with PD just as fast as a wall outlet.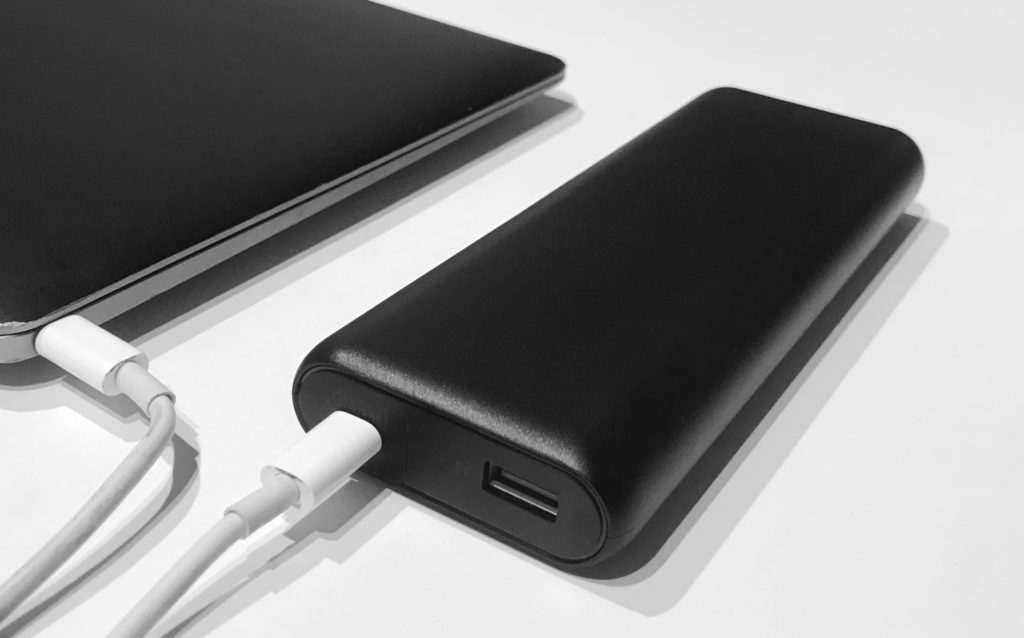 Airpods. These things are magic for travelers since they weigh virtually nothing and are versatile enough to wear anywhere for any situation or activity. They're also durable (and waterproof), and though the battery starts to wear down after a while my pair is still going strong after more than two years of daily use. I'm still waiting for noise cancelling but otherwise I couldn't imagine a better pair of headphones.
Snapchat Spectacles. The Nico style looks similar to normal wayfarer sunglasses, and since I just need to tap a button on the frame to immediately record video they make it a lot easier to record adventures than taking out my phone and opening the camera app. I can also scroll through my last three years of 'memories' recorded from my POV just like in that Black Mirror episode. I used to have a custom pair of Spectacles but I accidentally broke them on a hiking trip so now I'm back to a stock pair.
Chargers
I've been trying to slim down my charging kit for years, so after finally making the switch to UBC-C I was thrilled to be able to toss out all my micro-USB and USB-A cables and adapters. I realized that with a USB-C setup I only needed one wall charger to keep everything charged, but keeping track of what devices could charge each other became confusing so I created a chart to visualize my charging hierarchy.
With this setup, it takes just one adapter and two cables to charge most of my tech, even if I add an iPad and Apple Pencil to the system. My Apple Watch and Snapchat Spectacles require their own specialized chargers but that can't be helped. For international travel I ship myself a cheap universal travel adapter.
30W USB-C Adapter. The standard adapter for the 12″ Macbook and the perfect adapter for the Anker battery. Realistically I could switch to Apple's lighter 18W adapter, since the 12″ Macbook rarely draws more than 18W, but I prefer the folding design of the 30W so I'm sticking with it even though it weighs more. It also allows me to fast-charge the Anker battery which can draw the full 30W. Since there's no efficient way to store the charging cable like what those old MagSafe chargers had, I 3d-printed a custom case with a cable mount. You can download the STL file here.
USB-C to USB-C Cable. The 2 meter version, for charging my laptop and powerbank. I tried going down to 1 meter but it turns out you need more than that for working out of coffeeshops since the outlets aren't always directly underneath the tables.
USB-C to Lightning Cable. The 1 meter version, for charging my phone and airpods. If Apple ever releases a shorter version of this cable I'll be the first to jump on it.
Apple Watch Charger. The 0.3 meter version, for charging my watch. Since a good cable-less dongle version of this doesn't exist, I stuffed it in a custom 3d-printed case to keep it as compact as possible. STL download here.
Snapchat Spectacles Cable. For charging my sunglasses. I really wish there were a dongle version of this too, and I've tried DIY'ing it by cutting extra cables and soldering the ends together, but I always fail. Luckily I only need to charge my sunglasses once a month so I don't need to dig this one out of my backpack very often.
Clothing
My clothes are the heaviest things I own at just under 5lbs (2.2 kg). About half of that is worn weight though, so on most days I only have 2-3lbs of clothing in my backpack. I recently stopped carrying a down jacket and rain jacket since I never use them; I might add a down jacket again at some point but I think the rain jacket is permanently out.
Hoodie. I have no idea how Hanes make hoodies this good for $11. Definitely not the lightest, warmest or most compact hoodie, but still very comfortable and versatile. I love cold weather, so even in freezing weather this hoodie functions as my jacket. No plans to replace anytime soon.
Next Level Shirts. Four shirts, all grey, no branding. I like these cotton/poly shirts since they're really versatile and cheap, but I'll probably eventually replace them with merino when I find a brand that's worth the price. I pack my shirts by rolling them around my socks and underwear into tubes that function as 'day packs', so after I wake up in the morning I can just grab a roll on my way to the shower and eliminate all decision-making involved with getting dressed. This also prevents my clothes from wrinkling and makes packing as simple as tossing the rolls into my bag.
Uniqlo Airism Boxer Briefs. Four pairs. Often rated as one of the best travel boxers for good reason. They're also the only clothing product I've purchased in a physical retail store in a few years.
Darn Tough Socks. Four pairs. Darn Tough socks are so indestructible that if they rip the manufacturer will ship you a brand new pair. They're made out of merino wool, which means they work for any activity in both warm and cold weather. I've walked over 1,000 miles with each pair I own and they still look brand new.
Merino Buff. Buffs are multi-purpose neck tubes that have near-limitless potential for travelers. I mostly use it as a face mask for cold weather and as a sleep mask for planes and buses, but I've also used it as a scarf, bandana, pillowcase, and much more. Definitely one of the best pieces of travel gear I own.
ECCO Soft 7 TRED Gore-Tex Shoes. I switched to these from Nike running shoes since I was looking for something professional, durable, waterproof, and able to slip-on, but I've been having mixed feelings about them. They're amazing, but after only wearing running shoes for a while wearing anything else makes me walk slower and feel sluggish. If that doesn't change over the next few months I might have to switch back to running shoes, most likely Nike's Epic Flyknit React.
Levi's 511 Slim Fit Jeans. I like Levi's jeans because they're durable and can last weeks between washes. There are other dedicated travel pants that I've tried switching too but I always end back up at these pants. Couldn't imagine any way to improve them. Worn with a canvas belt. Lifehack: keep a condom inside the watch pocket instead of a pocketwatch to always have one on hand.
TBMPOY Trackpants. A cheap pair of minimalist sweatpants off Amazon. I was actually surprised at how good they were and currently don't have any plans to replace them. Any pair of trackpants that uses TPU-coated zippers immediately wins me over.
Swimsuit. A cheap pair of board shorts off Amazon. I'll probably try to find a more minimalist product to replace this with this summer, since this is one of the few things I own that violates my 'all-black' aesthetic.
Miscellaneous
Wallet. A minimalist leather wallet I sewed myself using leather pieces from a trifold wallet I've owned for over 15 years. It contains my debit/credit cards, ID, cards for the NYC/SF/LA subway systems, and my Cash Card).
Passports and personal docs. Stored in a plastic envelope to stay waterproof.
True Utility Keytool. Probably the world's most compact bottle opener – this thing is literally invisible until you need it. In addition to the bottle opener it also has other useful things, like a flathead screwdriver, tweezers, file, and a rope cutter. Bought it over a decade ago and it's been on me every day since.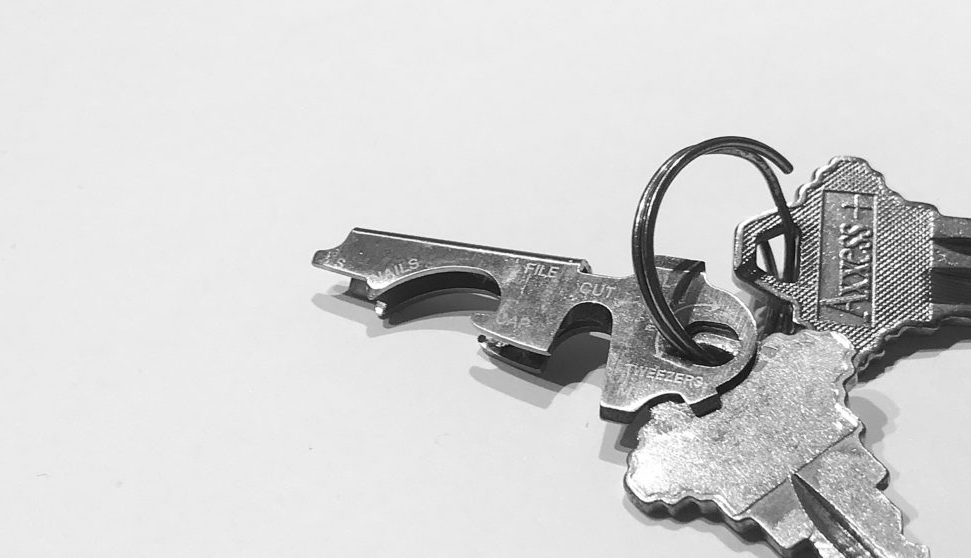 ShedRain Umbrella. This umbrella from Target is surprisingly one of the lightest umbrellas available anywhere. It's not very durable though so I need to replace it at least once per year. Crossing my fingers that at some point a gear company will attempt making a high-end ultralight travel umbrella. Montbell's Ultralight Umbrella looks cool but unfortunately doesn't come in black.
Matador Nanodry Shower Towel. I love travel towels since they work just as well as normal towels, but are significantly lighter, dry faster, and stay clean longer. I replaced my Packtowl with the Matador Nanodry only because Packtowl doesn't sell anything in grey. Even though this one is similar to the Packtowl in terms of performance, and is actually an ounce heavier, I prefer it because it looks and feels better. It's small enough to fit in my fist but also large enough to work as a beach towel.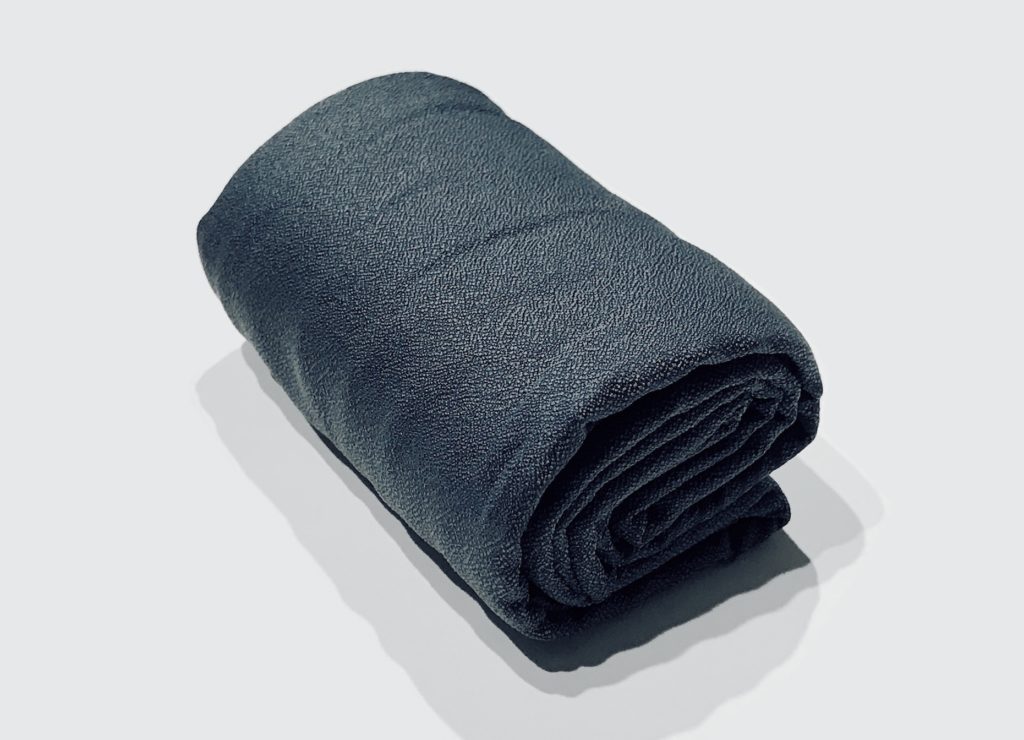 Medkit. Contains Advil, bandaids, gauze bandages, medical tape, antiseptic wipes, alcohol swabs, extra condoms, and tweezers.
---
Outdoor gear
The stuff I toss in my backpack for lengthy hiking trips. Used this gear when hiking 400 miles of the PCT from Mexico to LA in June 2018. Ideally this would all be part of my everyday carry, but fuel, stakes, and knives make it impossible to fly so I opted to keep everything in storage instead.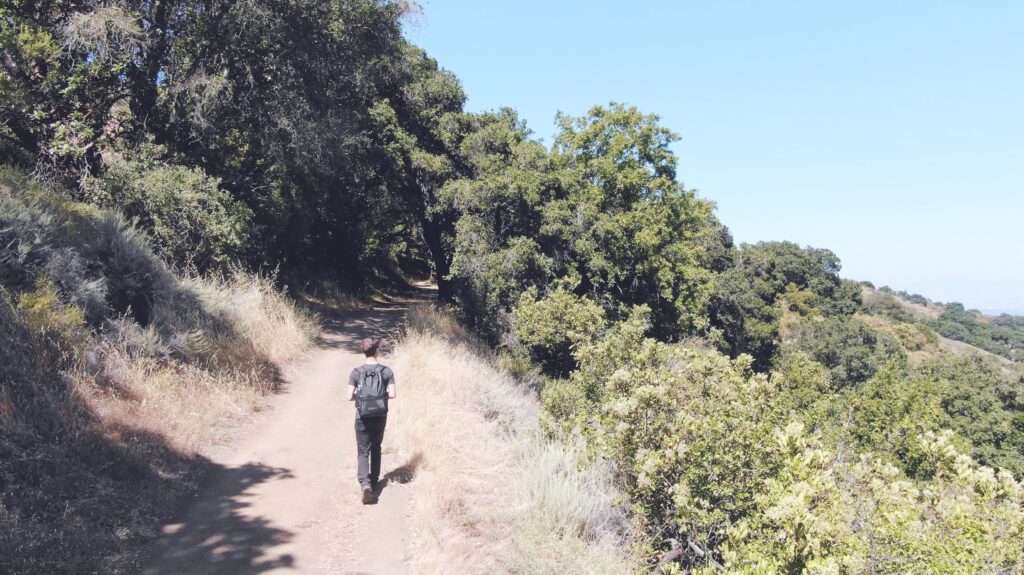 My current outdoor gear setup weighs 5.1lbs (2.3kg), however once I finish the mentioned upgrades I'll be able to reduce the weight to 2.9lbs (1.3kg). Added to my onebag, the total baseweight is 12.4lbs (5.6kg), or 10.2lbs (4.6kg) after the upgrades. Lighterpack.
Sleeping bag. Unknown brand. Technically a liner but it works well enough for me. For my next trip I'll replace it with an Enlightened Equipment Revelation, which wouldn't save much weight but would be a bit warmer and more comfortable.
Sawyer Mini water filter. Probably the most important thing on this list and arguably the only thing I couldn't survive without.
Gerber Paraframe Pocketknife. I wish this could be part of my everyday carry. I used to carry credit card knives, which would only be confiscated by one out of every five airports, but eventually replacing them became too much of a hassle.
Solar cells. I disassembled a larger solar panel kit to hack together two 5.5W cells into a DIY paper-thin ultralight charging kit. Combined, on a sunny day they can charge my phone almost as fast as a wall outlet.
Toaks 450mL pot/mug. It took some experimentation to find that this is the smallest possible pot capable of cooking an entire packet of ramen.
BRS-3000T stove. A lightweight stove burner. Stored inside the pot when not in use.
4oz fuel canister. The smallest size fuel canister you can buy, provides 1-2 weeks worth of hot meals. I've been considering switching to a DIY alcohol stove for my next thruhiking trip, to save on weight, volume, and TSA-compliance.
Titanium spork. Collapsible, stored inside the pot. I'm not usually a hiking utensil person, but since most thruhiking meals involve either dense solids or adding water, like peanut butter, ramen, and instant mashed potatoes, a utensil is a must.
Bic lighter. For the stove. Stored inside the pot.
Smartwater 1L bottle. Two, at least one of them with a sports cap to backflush the water filter. While hiking, one bottle carries sanitized water while the other carries raw water with the filter screwed on top.
---
Thanks for reading!