Updated October 2022
In 2015 I got rid of everything I owned that didn't fit in a laptop backpack, and I've been living at this level of minimalism ever since. The core idea is to only own what I need, which allows me to travel spontaneously, spend less, focus more, and simplify my life.
I update this post yearly and retain the same URL. Previous updates are archived on the Wayback Machine: 2021, 2020, 2019, 2018, 2017. I also include some affiliate links, but due to increased minimalism and fewer links this page now makes a fraction of what it did a few years ago. If you really enjoy these posts you can buy me a coffee on ko-fi! ☕️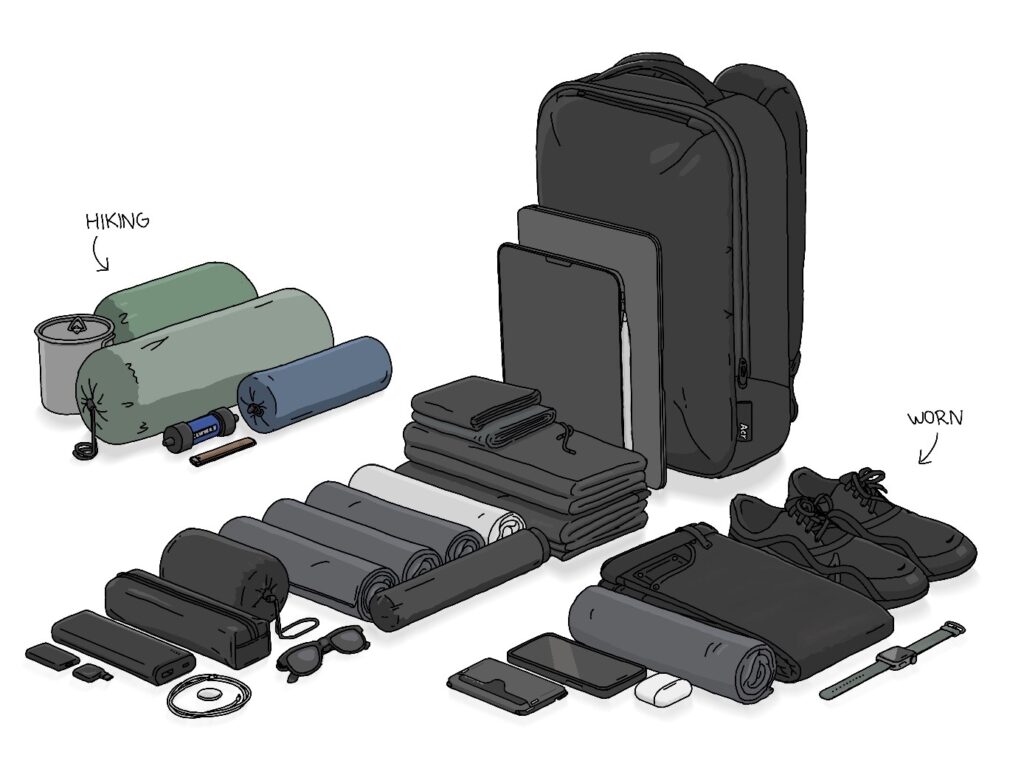 As to why this level of minimalism, I've never really owned much stuff, so once I got into traveling this seemed like the natural evolution of my lifestyle. For that reason, it always seems strange to take photos of my bag, and because I actually use my gear, stuff rarely looks photogenic. So I now use the images in this post as an excuse to use my Apple Pencil.
I don't want this to be a guide, but whenever I share an update of this post without exposition all of the responses online tend to be the same dozen questions and misunderstandings. So, here's the bare minimum to address those.
It can be difficult to describe the benefits of onebag travel, since it's lot of not doing things. Not rushing to to the airport early for check-in, not searching for an overhead compartment, not worrying about your stuff getting lost, not adjusting plans to unload your heavy luggage before an adventure, and not paying more than your plane ticket. I've flown hundreds of flights and enjoyed each one. r/onebag is a community built around this and a good place to learn more.
Because I only own a few things, I've taken the time to research and optimize each thing to be the best possible. Carrying a 4oz jacket instead of a 1lb jacket can radically improve a trip. However, it's worth mentioning I don't take part in the consumerist side of the travel/hiking communities, which focuses more on expensive brand names than practicality. Buy only what you need; a $100 setup is nearly as good as a $10,000 setup. Sometimes spending more will get better quality or versatility, but it's never worth obsessing over. Anyways, the perfect travel bag doesn't exist (relevant XKCD).
Regarding the nomad lifestyle, while I prefer fast-paced nonstop travel, it's not great for productivity, finances, and making friends, so I now stay several months per city. This allows me to maintain social relationships and really explore every part of the city. In terms of the future, while I'm sure minimalist travel will be something I still do when I'm old, living out of a bag will end whenever I settle down and build a homebase. Hopefully not anytime soon though.
---
Packing
Aer Slim Pack. In 2020 I made a custom 10L bag, but it wasn't very durable so for the moment I'm back to tech bags (MYOG bag v2 coming soon). At 9L this bag has the perfect storage capacity for all my stuff minus hiking gear, and falls well within the 'personal item' size requirements of even the most strict budget airline. I permanently keep an Airtag inside and attached some Nite Ize S-biners to the zipper pulls to lock the bag from casual theft.
Rains Pencil Case. After years of searching, this is the closest I've come to the perfect dopp kit. I use it primarily as my toiletries bag, but also for storing first aid and random small things.
Tech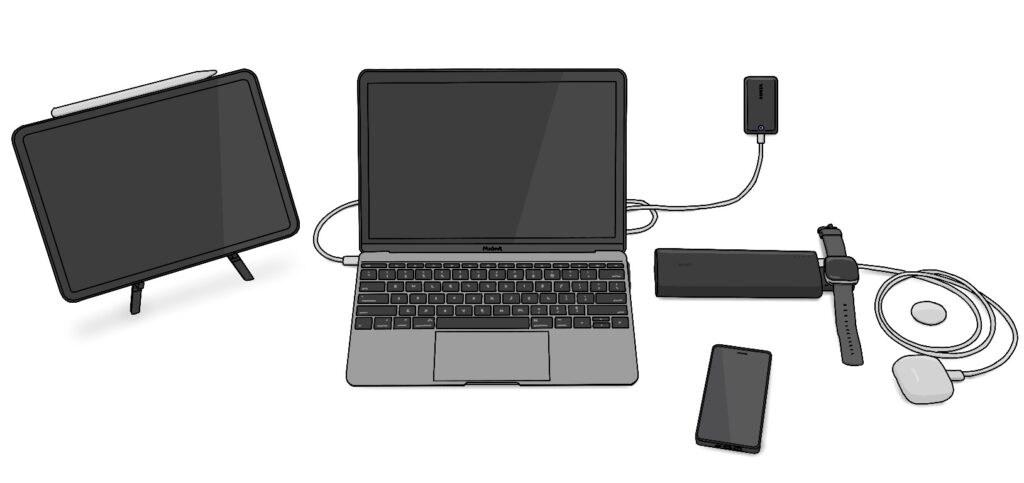 Macbook 12″. The best portable laptop. When used alongside my portable battery I can go almost a week without having to connect anything to a wall outlet. It struggles with Chrome though so an upgrade is on the horizon.

Installed apps: Chrome, Pixelmator Pro.
Extensions: Adblock, 1Password, Privacy, SponsorBlock, Smile Always.
Services: Namecheap, WordPress, Carrd, Notion, iCloud, Google Drive.
iPad Pro 11″. Great for reading, drawing, painting, note-taking, 3d-modeling, etc. I use it with an Apple Pencil and a textured screen protector that simulates the feel of drawing on paper.

I use a Twelve South Compass stand to mount the iPad alongside my laptop for a dual-screen setup, or prop it up for drawing. If it didn't weigh half a pound and raise flags at every airport it would be perfect, but it's not so I'm still on the search for a better stand.

Installed apps: Procreate, Shapr3D.
iPhone 12 Mini. Even though it's been a while since I caved and switched from my 'modular' iPhone 7 to the current generation of glass-backed iPhones, I still miss it. There's no going back though. I do like the Mini for its practicality, but due to the tiny battery and lack of a telephoto camera I'll probably replace it with a Pro at some point.

I currently have it equipped with a Peel silicone case, which doesn't protect much but it improves my grip and prevents the phone from sliding off the table. I also keep a second iPhone in my backpack for whenever I need a backup or a second SIM.

Installed apps:

Social: Twitter, Instagram, WhatsApp, Slack.
Dating: Tinder, Bumble, Hinge.
Music: Spotify.
Weather: MyRadar Pro.

Travel: Uber, Lyft, Airbnb, Alltrails, Gaia GPS.
Security/data: Google Auth, AdBlock VPN, Vinegar, Arc.
Banking: Wells Fargo, Chase, Revolut, Cash App.
Food/loyalty: Starbucks, Joe & The Juice, Chipotle, AMC.
Apple Watch. I use my Apple Watch very passively, relying on it for things like sleep tracking and tapping my wrist when getting a call, but rarely actually looking at it. I break my watch frequently, so my current one is an S4 I grabbed off eBay for $150; I'll upgrade to current gen whenever there's actually a redesign. Worn with a woven nylon band.

I'd love to switch to the Ultra, since a lot of the features seem purpose-built for my adventures, but it's too bulky for my wrist. That Alpine band with the G-hook looks tempting though.
Airpods. 3rd generation. Switched to these from Airpods Pro since I don't like how silicone headphones isolate me from the world – it's too easy to not hear someone talking to me or a car coming, even with transparency mode.
Anker PowerCore. Minimalist, matte black, lightweight, and small enough to fit in my pocket if I need to go without my bag. At 20,000 mAh it carries one full Macbook charge and can charge all my stuff via USB-C at 30W, as fast as a wall outlet. No longer sold though.
Chargers
Apple USB-C Cable. 1 meter, USB-C to USB-C. For charging my Macbook, iPad and battery. I frequently go back and forth between 1 and 2 meter cables, 2 meters is more versatile and durable but 1 meter is much more compact.
Apple Lightning Cable. 1 meter, USB-C to Lightning. For charging my iPhone and Airpods. I can't wait for the day I can get rid of this cable.
Maco Go Charger. For charging my Apple Watch. Though my 2019 custom charger was great, the Maco Go is much smaller, lighter, and better-looking. I've seen a few alternative compact chargers pop up since buying this one, but none smaller. It does charge a bit slow though.
Clothing
Montbell Plasma 1000. The Japanese version, which comes with pockets. Objectively the world's best down jacket by weight-to-warmth ratio. Literally weighs less than my phone and can fit in my pocket. It's unreal. When layered with a hoodie I feel comfortable in any weather.
Amazon Essentials Hoodie. I've tested dozens of hoodies, including recently a custom-tailored one. But they always get destroyed on hikes so I'm now back to the cheap Amazon brands.
American Apparel 50/50 Shirts. Five shirts, four black and one white (can't be a ninja every day). I now prefer 50/50's over triblends, since they're more durable. I'm not a fan of merino due to durability and price – frequent outdoor adventures mean I rip my shirts often.

I pack my shirts by rolling them around my socks and underwear into compact 'day rolls', which prevents wrinkling, eliminates decision-making involved with getting dressed, and makes packing as simple as tossing the rolls into my bag.
Darn Tough Socks. Five pairs. Darn Tough merino socks are so indestructible that if they rip the manufacturer will ship you a brand new pair. I've literally walked over 2,000 miles with each pair I own and they still look brand new.
Uniqlo Airism Boxer Briefs. Five pairs. Rated as one of the best pairs of travel boxers for good reason. Hard to find Uniqlo stores these days to replace them, however…
Levi's 511 Slim Fit Jeans. I like Levi's jeans because they're really durable and can stay clean for weeks. I prefer pants with a heft to them, so I'm not a fan of stretchy travel jeans – if I need lighter pants for an activity I'll wear my joggers instead. I wear them with a minimalist Grip6 belt, which is very form-over-function with a learning curve, but totally worth it for the aesthetic!
Italic Latitude Joggers. For running, sleeping, doing laundry, or any scenario that I'm not wearing my jeans – which really isn't very often. These joggers from Italic are very much my vibe: black, minimalist, and practically-designed with well-placed pockets.
Nike React Pegasus Trail 4 GTX running shoes. I'm back to Nike after briefly switching to Adidas for their logo. Nike makes the best versatile running shoes, especially their line of Gore-Tex shoes, and I can often get 5,000 miles out of a pair – Adidas could barely reach 500. I'm still tired of their yearly release shtick that discontinues every design after a year though.
Merino Buff. Near-limitless uses while traveling. I mostly use it as a face mask for cold weather and as a sleep mask for planes and buses, but I've also used it as a scarf, bandana, pillowcase, and more. Definitely one of the best pieces of travel gear I own.
Miscellaneous
RE:FORM RE:01 wallet. A super-thin minimalist wallet with a magnetic pouch for an Airtag. Much thinner than my previous wallet, which was custom-built. The material RE:FORM uses is insanely durable, I've been using it for a while now and it still looks brand new. Disclaimer: the founder sent me this wallet.

Amazon credit card. 5% back on everything. It just so happens that 5% of my credit card spend is about what I spend on Amazon, so it's perfect.
Revolut debit card. Fee-free ATM withdrawals. So many other cards I've used have pivoted to add fees for international ATMs, Revolut is the only one I've used that hasn't.
Metrocards. Thanks to Apple transit I've gotten rid of most, just a few holdout cities left.

Airtag. I've never lost my wallet before but this is needed for peace of mind.
Plus my ID, my bank cards (Wells Fargo/Chase) and some cash.
Ray-Ban Stories. Wayfarer style, stored in a small custom microfiber pouch from a defunct eyewear startup I used to run. I rarely wear sunglasses but they're still good to have on hand for long-term eye health.

I used camera glasses frequently in 2016-2019, and frequently find myself browsing through my old 'memories' like I'm living in a Black Mirror episode, so I had to check out Facebook's attempt. It's nothing special.
True Utility Keytool. Probably the world's most compact bottle opener and multitool. Bought it over a decade ago and it's been on me every day since. Not much else to say, except that over a thousand people have bought it from this Amazon affiliate link.
A.Brolly Umbrella. Weighs less than 90g and disappears in my bag. It's a bit harder to deploy than a normal travel umbrella but the weight savings make it worth it, it feels like you're holding air. It's also obviously not the most durable umbrella.
Matador Nanodry Shower Towel. Small enough to fit in my fist but also large enough to work as a beach towel. Dries incredibly quick and lasts years. Rarely used though, as I typically stay in places with towels.
Atoms Mask. A black Atoms mask, with the logo removed for a brand-less aesthetic.
Toiletry Kit. As minimalist as a toiletry kit gets. Most items get cycled out every month or two.

Marvis toothbrush. Or a regular toothbrush when inconvenient to replace.
Marvis jasmine toothpaste. Or regular toothpaste when inconvenient to replace.
Generic floss
Generic razor
Generic deodorant
Generic tweezers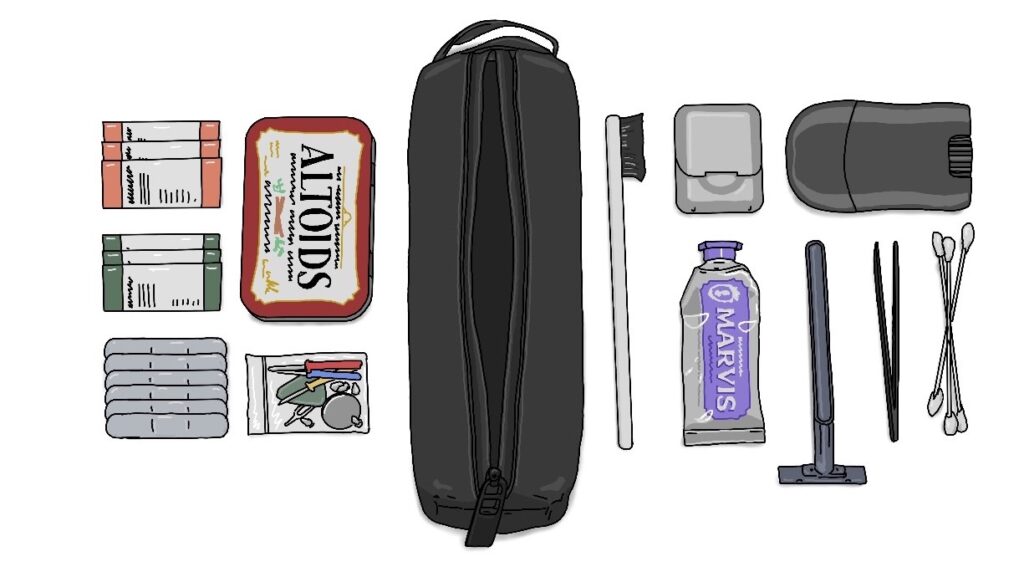 First Aid Kit. My FAK has reduced in size over the years and now contains just the bare necessities. Everything is stuffed in a repurposed Altoids tin, which does get annoying to restock, so I may go back to prepackaged Coleman kits next time I run low.

Advil
Bandaids
Antiseptic and alcohol wipes
Condoms
Miscellaneous small things. Crammed in my FAK or in random pockets around my bag.

Plastic ballpoint pen. Very useful on planes when they hand out immigration forms.
Tech kit. SIM card remover, iPhone teardown tools, Apple Pencil tips, Airtag batteries.
Also my passports and various papers
---
Outdoor gear
The stuff I toss in my backpack for lengthy hiking trips, like 400 miles of the PCT or various mountains around the US and Mexico. I haven't done any trips outside of weekend hikes recently though, and most of this gear needs to be upgraded to be more ultralight.
The most difficult part about traveling with backpacking gear is keeping it airport-friendly. Knives, fuel, tent stakes, and tent/trekking poles aren't allowed in carry-on, and while carbon fiber stakes and poles can usually sneak through, it's not reliable.
This setup weighs 5lbs/2.3kg and should drop to 3.5lbs/1.5kg with the mentioned upgrades. When optimized for volume, a full UL backpacking setup can use less than 10L of bag space.
3F UL Gear tent. The best affordable ultralight tent ($70 when I bought it). I eventually want to replace it, but my commitment to staying compact in addition to ultralight rules out most UL tents as they're typically made out of bulky DCF. The Lofoten 2 is appealing but I'm hoping eventually I'll find the time and resources to build my own.
Sleeping bag. Unknown brand. Technically a liner but it works well enough for me. If I ever plan a trip to somewhere really cold I'll replace it with something better.
Portable kitchen. Everything but the fuel fits within the mug, which is also the perfect size to cook a packet of ramen. May switch to an alcohol stove eventually.

Bic lighter
100g fuel canister
Sawyer Mini water filter. Probably the most important thing on this list and arguably the only thing I couldn't survive without. Useful to have on hand even when not hiking, you never know when the water will be sketchy.
Smartwater 1L bottle. Two, one carries sanitized water with a sports cap to backflush the water filter while the other carries raw water with the filter on top.
---
Gear to add
There are always a few things I have my eye on, in addition to the upgrades mentioned above in the post. The reason I don't have them yet is either the result of my current trips, or often, the price.
---
Thanks for reading!
I occasionally post my adventures to IG stories @jeremymaluf 📷