What's In My Bag
Updated 4/17/21
In 2016 I got rid of everything I owned that didn't fit in a laptop backpack, and I've been trimming down my possessions ever since. The core idea is to only own what I need, which allows me to travel spontaneously, live cheaply, and simplify my life.
My bag currently weighs 7.3lbs/3.3kg with around fifty things. Weight is important if I'm carrying the bag around all day, so I try to keep the bag lightweight enough to be able to comfortably walk, hike, and even run long distances while wearing it. My current onebag is the smallest, lightest, and most matte black it's ever been.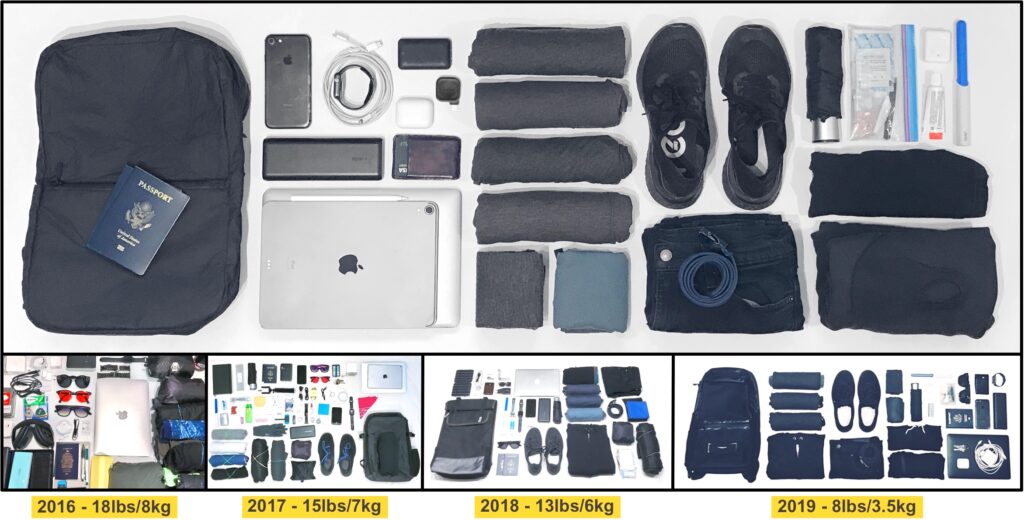 I view onebagging as the absolute form of freedom. Minimalism is all about simplifying your life and removing distractions, and when it reaches the point where you can fit everything you own in a backpack it eliminates a lot of friction you never knew existed. It's a pretty popular travel strategy (the r/onebag subreddit has 200k subscribers), but from what I can tell I am one of the few who continue the lifestyle even when not traveling.
My favorite part about onebagging however is probably that when you can travel without the burden of luggage, you no longer are a tourist and can blend into a location like a local. As a result, when I travel I never view myself as a tourist, since from all appearances and actions I seem like somebody who lives in that location. This alone makes it worth it.
I do sometimes buy amenities when I'm in a location for a while (a sheet for a bed, a frying pan for a kitchen, etc), but when I do I treat that purchase as something for the sublease or wherever I'm staying rather than for myself. I can define those purchases by just thinking "when I leave will I take it" and if the answer's "no" then I don't include it on this list.
I included some affiliate links on this page, so if you buy something from here, thanks! Though now thanks to minimalism there are very few links, so if you really enjoy these posts you can buy me a coffee!
✅ perfect thing / 🟢 pretty good thing / 🔴 looking for replacement
---
Packing
Custom backpack. ✅ The inevitable outcome of obsessing over the 'perfect' version of everything is realizing the perfect version doesn't always exist. However, you can make it!

In truth I was only planning to build this bag as a quick prototype to test some features and materials, but it ended up functional enough that I'm now using it as my travel bag. Will build a more refined V2 later this year when I next have access to the tools I need.

In terms of features, the top few: it can convert between a backpack, messenger bag, and briefcase; it flies for free on every airline as a 'personal item'; it's waterproof, lightweight, and durable enough for thruhiking trips; it can lock to a chair or table for security; it has anti-theft pockets; it's modular; it's bulletproof(?); and much more.

For those into MYOG stuff, the bag is made from 420D ripstop with HHH aquaguard-knockoff #3 zips and 1″ webbing. Specs: 35x24x10cm, 10L, 200g/7oz. Total cost was about $20 sourced mostly from RBTR. I'll definitely replace the ripstop with 500D cordura or ballistic nylon for the V2, among many other changes I have planned.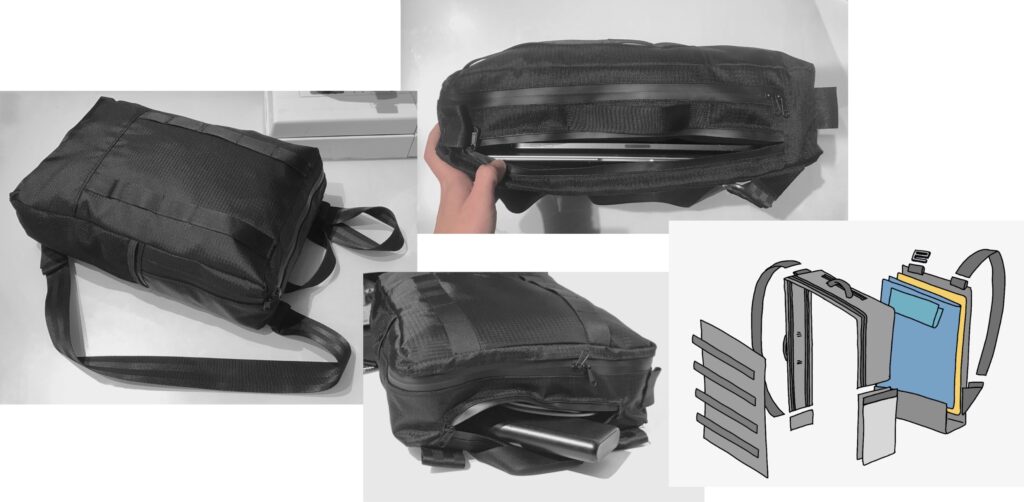 Tech
My current tech kit has become so minimalist it's hard to call it a kit anymore. When you exclude the tech I wear or carry in my pockets, really all I carry around is a Macbook, iPad, and battery. My current setup is most likely my perfect setup.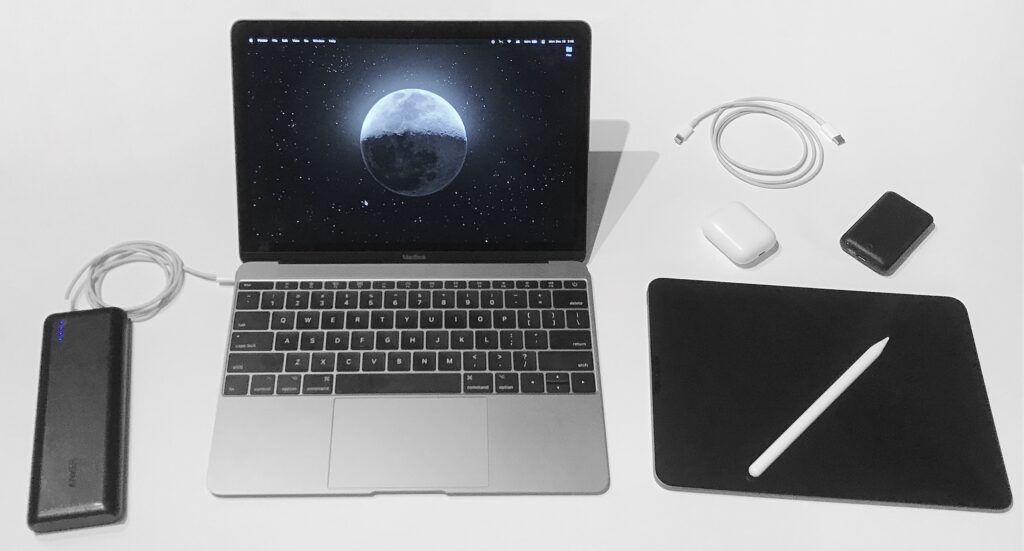 All my tech combined weighs about 4.3lbs/1.9kg, which is surprisingly light considering it includes a laptop, tablet, battery and more. It's kinda crazy that all this stuff combined is roughly the same weight as the 2014 Macbook Pro I was using a few years ago.
Macbook 12″. ✅ I've had this computer for now almost two years and I love it more and more every day. Because it's like 90% battery and has low power needs, when used alongside my portable battery I can go for almost a week without having to connect anything to a wall outlet. That said, it does have an Intel chip. If Apple relaunches it with an M-series chip that will be an instant buy for me.
iPad Pro 11″. ✅ I have the 2018 model, which I prefer over the 2020 one as it's lighter, cheaper, and uses a larger battery. I don't really care for Lidar and the specs are near-identical; they even have the same chip. I use a cheap textured screen protector to simulate paper, which makes interacting with the screen much more enjoyable and less reflective. I also use an Apple Pencil.

When I combine the iPad with my laptop they become a dual screen setup. I can use the iPad as a media device next to my laptop, or connect it using Apple's sidecar app which allows it to wirelessly function as a second display.
Anker 20100 PowerCore. 🟢 I love this battery because it's minimalist, matte black, lightweight, and small enough to fit in my pocket. It carries one full Macbook charge and can charge all my stuff as fast as a wall outlet. However, now that all of my devices are USB-C I might need to upgrade. If anyone has any recs for a similar battery with only 2x USB-C PD ports, please lmk! Not sure if it exists, yet.
iPhone 7. ✅ In my opinion the iPhone 7 is the best iPhone ever made. I've been holding off on upgrading for years, in part because I break my phone on a monthly basis and it's nice to have a modular one that's easy to fix in 5 minutes for a few bucks –– my Amazon and eBay purchase histories say I've broken it over 40 times. The new iPhone 12 Mini looks tempting, but without a case I know it won't last a week. We'll see.
Apple Watch. 🟢 I've worn one of these every day for 6 years but at this point it's more habit than anything else. I sometimes use it for workouts and runs, but I usually forget I'm even wearing it. I use it with a sports band.
Airpods. ✅ These things are magic for travelers since they weigh virtually nothing and are versatile enough to wear anywhere for any activity. In my opinion they're the best tech product of the past decade. The batteries in mine are on their last legs and I'm just trying to make them last until Airpods 3. Not a fan of the silicone ear tips of the Airpods Pro.
Chargers
I've been trying to slim down my charging kit for years, and I've finally managed to get rid of the last of my things with USB-A. This means I only need one wall charger and two cables to charge all of my tech. My goal is to eventually have just one cable for everything, but until I figure out some way to mod a USB-C iPhone and Airpods I'm stuck with two.

My Apple Watch requires a specialized charger but that can't be helped. Maybe eventually Apple will add QI wireless charging compatibility, but that won't be for a few years. For international travel I ship myself a cheap universal travel adapter.
Anker 30W GaN USB-C Adapter. ✅ This adapter is amazing. It's half the weight and a fraction of the size of Apple's 30W charger, and better looking too. What's insane is how light and empty it feels – I'm excited for the future of GaN adapters, these things are gonna get tiny in a few years!
USB-C to USB-C Cable. ✅ I replaced my 2 meter cable with a 1 meter version because it's so much smaller and lighter, though occasionally it can be hard to reach the outlet from a coffeeshop table. Still, I prefer the shorter size.
USB-C to Lightning Cable. 🟢 The 1 meter version, for charging my phone and airpods. If Apple ever releases a 0.5 meter version of this cable I'll upgrade to that.
Maco Go Watch Charger. ✅ Though the custom watch charger I made last year was great, the Maco Go is so much smaller, lighter, and better-looking aesthetically. It's so nice it makes me not mind that the Apple Watch uses a proprietary charging coil.
Clothing
My clothes are the heaviest things I own at just under 5lbs/2.2 kg. About half of that is worn weight though, so most days I only have 2-3lbs of clothing in my backpack. I removed my last jacket a while ago, though I may buy another down jacket next time I travel to some really cold place.
Hoodie. 🟢 Super cheap and comfy. Definitely not the lightest, warmest or most compact hoodie, but still very versatile and cheap to replace when it gets ripped. I love cold weather, so even in subzero weather this hoodie functions as my jacket. I modded it by sewing a pocket on the inside that is the right size to carry either my iPad or my folded-up backpack. It would be cool to mod it so I can carry everything in my pockets, but unless I get rid of my laptop I don't think it's feasible at the moment.
American Apparel Tri-Blend Shirts. ✅ Four shirts, various shades of gray, no branding. Since it's so easy to rip a shirt during normal activities, I prefer wearing cheap shirts I can replace without a second thought over more typical travel shirts like merino. I pack my shirts by rolling them around my socks and underwear into compact tubes, which prevents my clothes from wrinkling, eliminates any decision-making involved with getting dressed, and makes packing as simple as tossing the rolls into my bag.
Levi's 511 Slim Fit Jeans. 🟢 I've always liked Levi's jeans because they're durable and can stay clean for weeks. There are other dedicated travel pants that I've tried switching too but I always end back up at these pants. I wear it with a durable and cheap canvas belt. Thanks to 2020, the pocket watch pocket is now a backup mask pocket.
Darn Tough Socks. ✅ Four pairs. Darn Tough socks are so indestructible that if they rip the manufacturer will ship you a brand new pair. They're made out of merino wool, which means they work for any activity in both warm and cold weather. I've literally walked over 2,000 miles with each pair I own and they still look brand new.
Uniqlo Airism Boxer Briefs. ✅ Four pairs. The Uniqlo Airism boxers are often rated as one of the best travel boxers for good reason. I wish they had more designs though, I feel underwear is the one clothing item I don't really care for being solid black.
Merino Buff. ✅ Buffs are multi-purpose neck tubes that have near-limitless uses while traveling. I mostly use it as a face mask for cold weather and as a sleep mask for planes and buses, but I've also used it as a scarf, bandana, pillowcase, and much more. Definitely one of the best pieces of travel gear I own.
Nike Epic React Flyknit 2 Running Shoes. 🟢 Matte black. I've tried switching away from Nike running shoes but I keep coming back, they're just so good and versatile. Not quite as waterproof as I'd like, but otherwise the perfect shoe. I wish Nike would stop doing their yearly release schedule though, it's frustrating to find a shoe design I like and then no longer be able to find it a year later.
Swimsuit. 🔴 A very cheap pair of board shorts off Amazon.
Miscellaneous
Wallet. ✅ A minimalist leather wallet I sewed myself using repurposed leather pieces from a trifold wallet I've used for the past 15 years. It contains my ID, debit/credit cards, Cash Card, plus a few random metro cards.
Passports and personal documents. ✅ Stored in a ziplock to stay protected.
True Utility Keytool. ✅ Probably the world's most compact bottle opener – this thing is literally invisible until you need it since it slides over a key. In addition to the bottle opener it also has other useful things, like a flathead screwdriver, tweezers, file, and a rope cutter. Bought it over a decade ago and it's been on me every day since.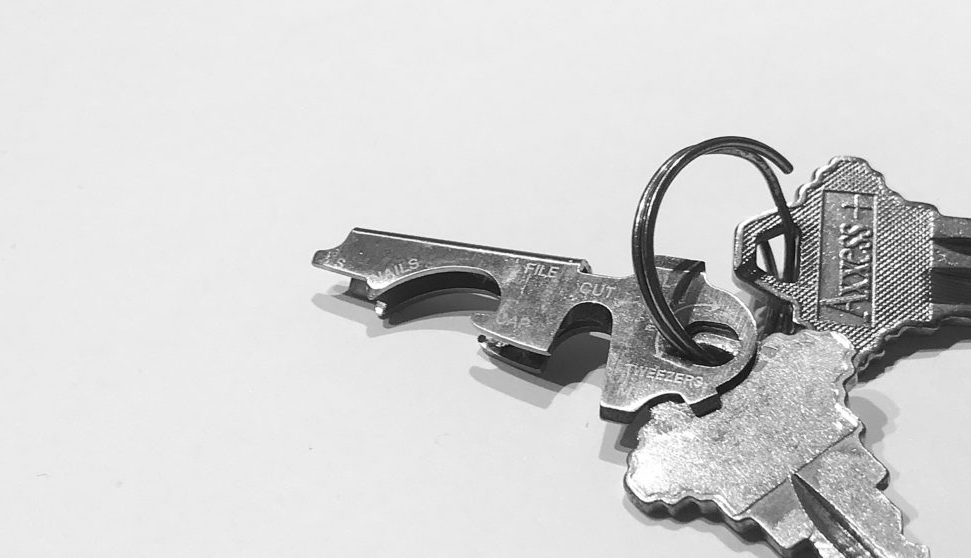 A.Brolly Umbrella. ✅ Weighs less than 90g and disappears in my bag. It's a big harder to unfold than my previous umbrella, but the weight savings make me think it was worth it.
Matador Nanodry Shower Towel. ✅ I think my towel is the only 'unconventional' thing I own, as most people hate these things compared to normal towels. In my mind, while regular towels are more comfy, they're also 200x the size for something you only use for 20 seconds a day. I've gotten used travel towels and unless I'm staying somewhere for a while I don't even consider using another. It's small enough to fit in my fist but also large enough to work as a beach towel.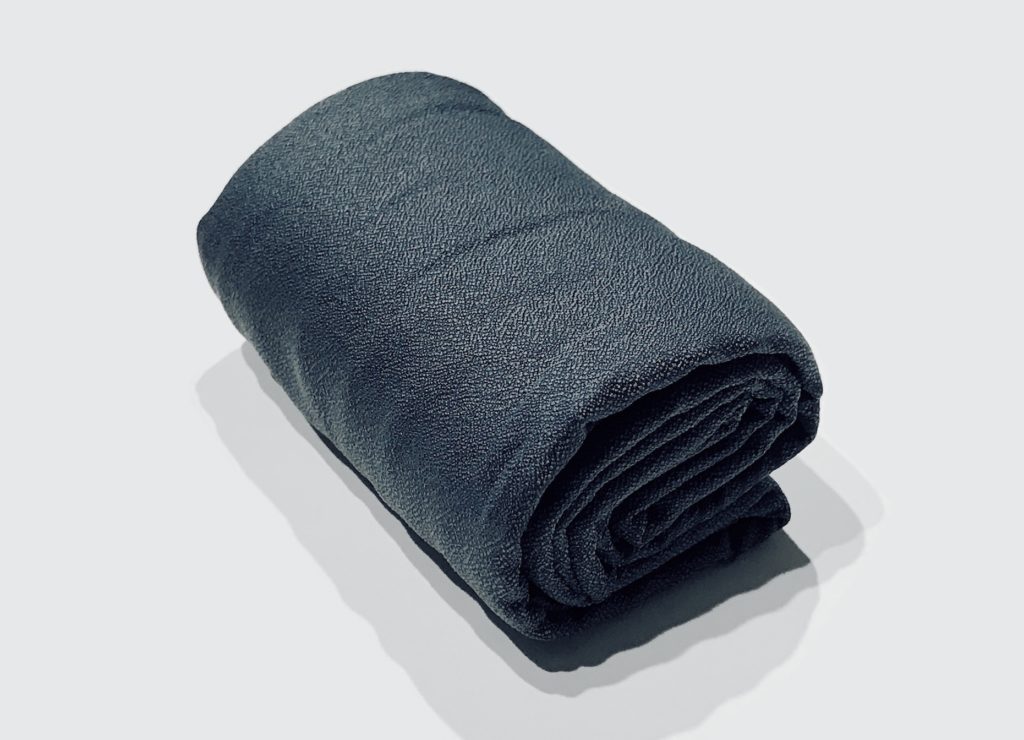 Atoms Mask. ✅ 2 black Atoms masks, because 2020. I keep one on hand while the other is hidden in my jean's watch pocket as a backup in case I forget or lose my main one. I've tried several different mask brands and Atoms is my favorite by a long shot. To fit my brand-less aesthetic I removed the logo with rubbing alcohol.
Medkit. ✅ Contains Advil, bandaids, gauze bandages, medical tape, antiseptic wipes, alcohol swabs, extra condoms, and tweezers.
---
Outdoor gear
The stuff I toss in my backpack for lengthy hiking trips. Used this gear when hiking 400 miles of the PCT from Mexico to LA in June 2018. Ideally this would all be part of my everyday carry, but fuel and stakes make it impossible to fly so I opted to keep everything in storage instead.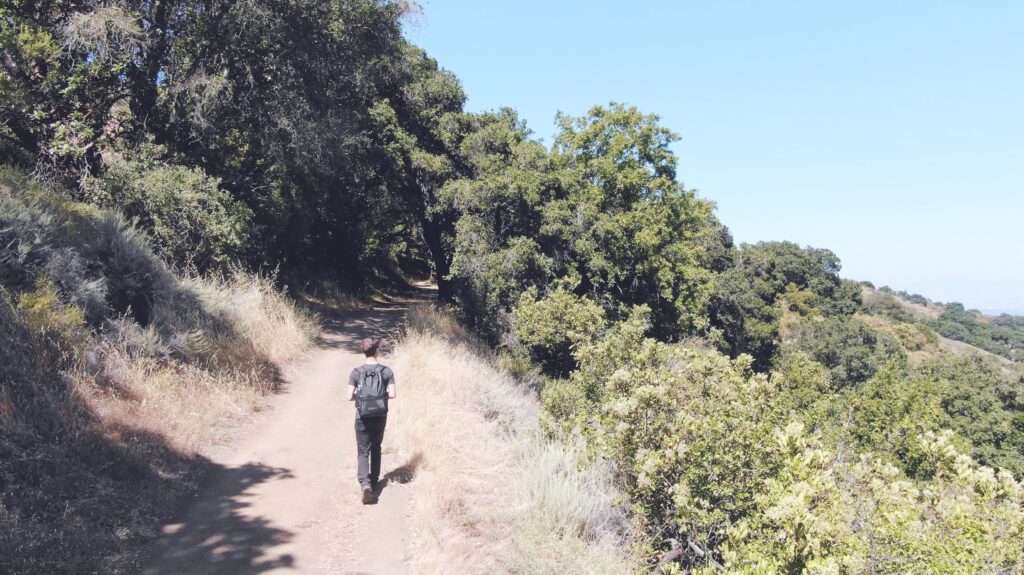 My current outdoor gear setup weighs 5.1lbs/2.3kg, however once I finish the mentioned upgrades I'll be able to reduce the weight to 3.5lbs/1.5kg. Added to my onebag, the total baseweight is 12.8lbs/5.8kg, or 10.8lbs/4.9kg after the upgrades. Which I don't think is terrible considering it includes a laptop and tablet and all the other stuff mentioned on this page. Lighterpack.
3F UL Gear tent. 🟢 The best affordable ultralight tent ($70 when I bought it). I eventually want to replace it, but my commitment to staying compact in addition to ultralight rules out most UL tents, since they're typically made out of bulky DCF. The Lofoten 2 is appealing but I'm hoping eventually I'll find the time and resources to build my own.
Sleeping bag. 🔴 Unknown brand. Technically a liner but it works well enough for me. If I ever plan a trip to somewhere really cold I'll replace it with something better.
Sawyer Mini water filter. ✅ Probably the most important thing on this list and arguably the only thing I couldn't survive without. Useful to have on hand even when not hiking, you never know when the water will be sketchy.
Portable kitchen. 🟢 A Toaks 450mL mug along with a BRS-3000T stove, Titanium spork, Bic lighter, and a 100g fuel canister. Everything but the fuel can fit within the mug, though I'm hoping to eventually remedy this with a new mug.
Smartwater 1L bottle. ✅ Two, at least one of them with a sports cap to backflush the water filter. While hiking, one bottle carries sanitized water while the other carries raw water with the filter screwed on top.
---
Thanks for reading!